5 Geriatric CME Courses You Have to Sign Up For ASAP
Signing up for the "best" continued medical education credits can mean something different for everyone. Are you the adventurous type who wants to travel to a different city and attend workshops focusing on the latest research or techniques for your specialty, or do you prefer to read up on the basics with online options? Do you want to learn more about the issues you treat every day, or would you prefer to learn something outside of your day-to-day work to broaden your scope of knowledge?
Even though the amount of CME options are relatively endless, it can be quite time-consuming to find applicable options for your speciality and learning preference. As a geriatric physician, finding beneficial courses can be difficult for this very reason. Lucky for you, we can help with that part so you can spend more of your time doing what you love… treating patients.
If you need a CE roundup that is targeted to your specific need (location, date, topic), use the CE app for content curated specifically for YOU. Just request here!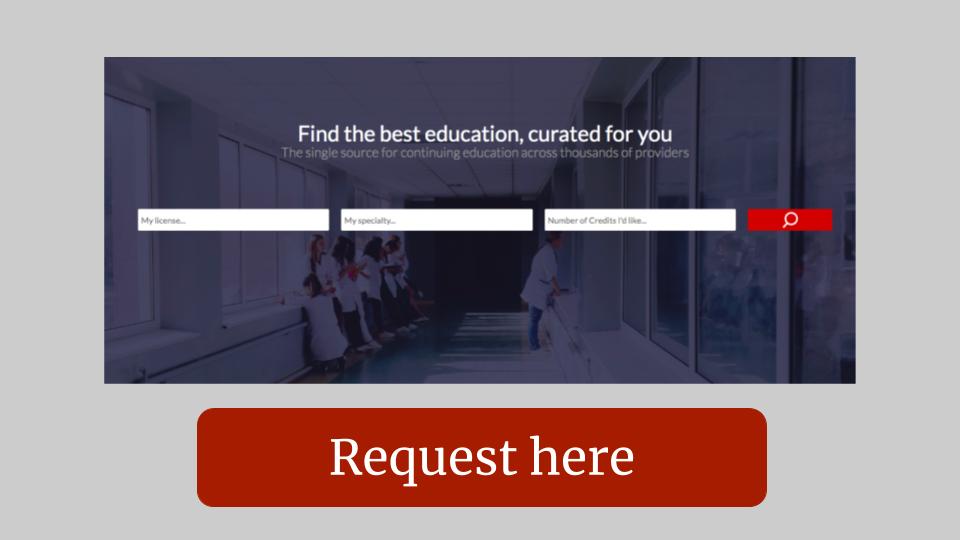 Take a look below to see some of our top picks for geriatric CME courses, with both in-person and online options.
Type

: In-Person Conference

Earn

: 25 credits

When

: December 4 – 7, 2019

Where

: Fort Myers, Florida

Course Description

: This conference will touch on everything from the basics in geriatric medicine including how to

diagnose, treat and manage common clinical conditions seen among the geriatric population.
Type

: Video-based

Earn

: 22.5 credits

Cost

: $775

Course Description

: With 23 self-paced video lectures, viewers will learn how to identify various medical and mental health issues in geriatric patients, as well as other critical public health concerns affecting many geriatric patients
Type

: Pre-recorded from live workshop

Earn

: 1

1.5 credits

Cost

: $485

Course Description: This pre-recorded course is perfect for someone with a busy schedule and can't attend workshops in-person. This package will address various topics, including advanced care planning, referrals, nutrition and hydration, symptom management, last hours, grief and bereavement, and more.
Type

: Article

Earn

: 2 CME credits

Cost

: $20, $15 for American College of Physicians member

Course Description

: This course focuses on a specific case to help physicians develop skills to properly evaluate, diagnose and treat the virtual patient.
Type

: Online

Earn

:  1 credit

Cost

: Free

Course Description

: This free course focuses on the current treatment of osteoporosis, while also highlighting important research on new treatment methods for the disease.
Save yourself a little time and avoid the hassle of searching through hundreds of CME course options by letting us curate a specialized list made specifically for you. Download the CE App to start the process!
By downloading CE App or join now, you will receive content curated to your profile and stay up to date with new research based on your specialty. Additionally, our app keeps all your certificates in one place so that you can keep track of your credits for your license. We strive to provide the best accredited materials for you by aggregating content from top CE producers and medical researchers into one easy-to-use platform.